Leg ulcers are becoming increasingly complicated due to a greater number of underlying co-morbidities.
LEG ULCERS TAKE ON AVERAGE

210 DAYS

TO HEAL
Despite standard treatment in the community.1
A SILENT CRISIS:
1 %
of world adult population2-4
Up to 70%
of venous leg ulcers recur after healing
DIAGNOSIS:
Delayed or inaccurate diagnosis can cause complications and extended treatment durations.
30% of wounds lack differential diagnosis7
Only 22% of patients had an ABPI documented7
42% of wounds remain unhealed after 6 months7
---
Causes of lower limb ulceration:
Chronic venous hypertension >70%
Poor arterial supply10-15%
Mixed arterial and venous origin 15%
CHRONIC VENOUS INSUFFICIENCY
RISK FACTORS
Leg ulcers are becoming increasingly complicated due to a greater number of underlying co-morbidities
(i.e. obesity, malnutrition, diabetes, inflammatory conditions), lifestyle and increased longevity)
35% are now considered to be complex multi-factorial ulcers8
---
VENOUS LEG ULCER TREATMENT
The priority for leg ulcer patients is to reduce healing time to get back to their normal life.
CONTINUOUS COMPRESSION THERAPY9
To reverse Venous Hypertension
LOCAL SKIN AND WOUND CARE AND INTERACTIVE DRESSING AS LOCAL WOUND TREATMENT19
To remove local factors that impair healing
GENERAL PATIENT CARE
Comorbidities
Pain
Lifestyle factors
---
LOCAL WOUND TREATMENT
Why do leg ulcers take so long to heal?
Beyond the underlying etiology of leg ulcers, one key local factor significantly impairs wound healing from the beginning:
A prolonged inflammatory phase with increased levels of Matrix Metalloproteinases (MMPs)10 which are present from the beginning of the wound and destroy essential extracellular matrix (ECM) components.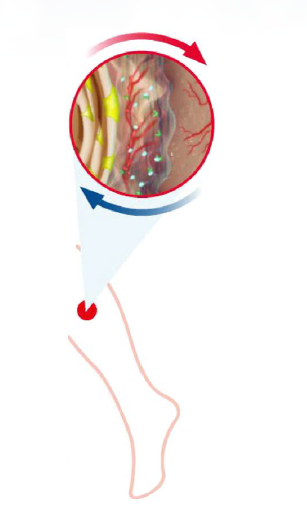 ---
Interactive dressings that address local barriers to healing can reduce healing time for leg ulcer patients
In addition to the etiologic treatment such as off-loading and compression, a local treatment is needed to act on this factor.
Reduction of excess Matrix Metalloproteinases (MMPs):NOSF has been shown to reduce healing times.10
Since MMPs are the main enzymes implicated in the extracellular matrix (ECM) degradation, their reduction results in a reduction of proteolytic destruction of essential ECM components.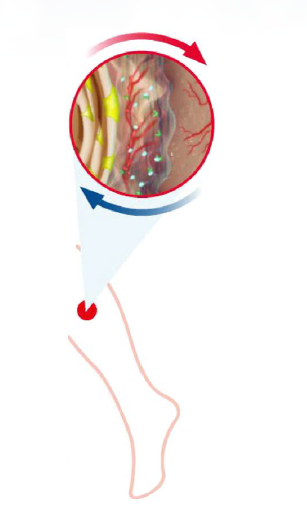 ---
Fund For Employee Insurance of Employed Workers. Report to the minister for security social and parliament on evolution expenses and products of health insurance for 2014 (law of august 13, 2004). 2014. https://tinyurl.com/yxe8cq3q (accessed 10 July 2019).
Posnett, J., Gottrup, F., Lundgren, H., & Saal, G. (2009). The resource impact of wounds on health-care providers in Europe. Journal of wound care, 18(4), 154-154.
Bobek K, Cajzl L, Cepelak V, Slaisova V, Opatzny K, Barcal R. Étude de la fréquence des maladies phlébologiques et de l´influence de quelques facteurs étiologiques. Phlebologie. 1966;19:227- 230.
Widmer LK. Peripheral Venous Disorders. Basle Study III. Bern, Switzerland: Hans Huber; 1978
Guest JF, Vowden K. The health economic burden that acute and chronic wounds impose on an average clinical commissioning group/health board in the UK. J Wound Care 2017; 26(6): 292–303. doi: 10.12968/jowc.2017.26.6.292.
2010 Blackwell Publishing Ltd, Journal of Clinical Nursing, 191 1289-1297.
Guest JF, Fuller GW, Vowden P. Venous leg ulcer management in clinical practice in the UK: costs and outcomes. Int Wound J 2017; oi:0.1111/iwj.12814
Moffat, 2001 and Moffat 2014.
Management of patients with venous leg ulcers: Challenges and current best practice. Journal of Wound Care, vol 25 no 6. EWMA document 2016
Lázaro JL, Izzo V, Meaume S, Davies AH, Lobman Rm Uccioli L. Elevated levels or matrix metalloproteinases and chronic wound healing: an updated review of clinical evidence. J Wound Care 2016: 25(5):277-287.