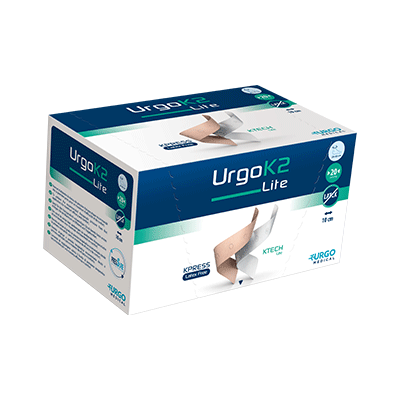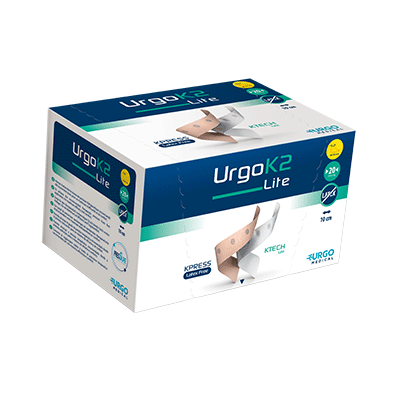 2-layer compression bandage system (reduced compression 20mmHg)
FEATURES
UrgoK2® is a two-layer compression bandage system, benefiting from the PresSure system

Layer 1- KTECH: short-stretch bandage, providing compression, protection, and absorbency
Layer 2 – KPRESS: cohesive long-stretch bandage, providing the additional compression necessary to achieve the therapeutic pressure and securing the bandages in place.

Efficacy and compliance thanks to the unique PresSure system technology
Accurate pressure of 20mmHg achieved from the first application
Pressure and position maintained for up to 7 days1
High level of patient comfort day and night1
Latex-free
INDICATIONS
Treatment of venous or mixed aetiology leg ulcers (i.e. patients with an ABPI > 0.6)
Treatment of venous oedema and lymphoedema that requires a reduced level of compression
CONTRAINDICATIONS
Arterial conditions (aterial of predominantly arterial ulcers; known or suspected arterial disease).
Ankle Brachial Pressure Index (ABPI) <0.6.
Patients suffering form diabetic microangiopathy, ischaemic phlebitis, septic thrombosis.
Ulceration due to infection.
Allergy to any of the components
PRECAUTIONS
Check that the ABPI > 0.6 using Doppler ultrasound before prescribing the bandage system.
In the event of diabetes, heart failure or advanced microvascular disease, use the compression system with close medical monitoring and after appropriate treatment.
In case of peri-ulcer infectious dermatosis, treat infection before starting a treatment with the compression system.
In case of an ulcer from rare origin (vasculitis, haemopathy, pyoderma, gangrenosum,…) the compression system should only be used following specialist referral.
The efficacy of UrgoK2 (or UrgoK2 Lite) has been tested and validated for the application of KTECH (or KTECH LITE) and KPRESS together.
The PresSure System has been designed to aid application of the bandages; it is important to follow the instructions carefully to achieve the recommended therapeutic pressure.
If any difficulty arises, consult your doctor or clinician immediately.
DIRECTIONS FOR USE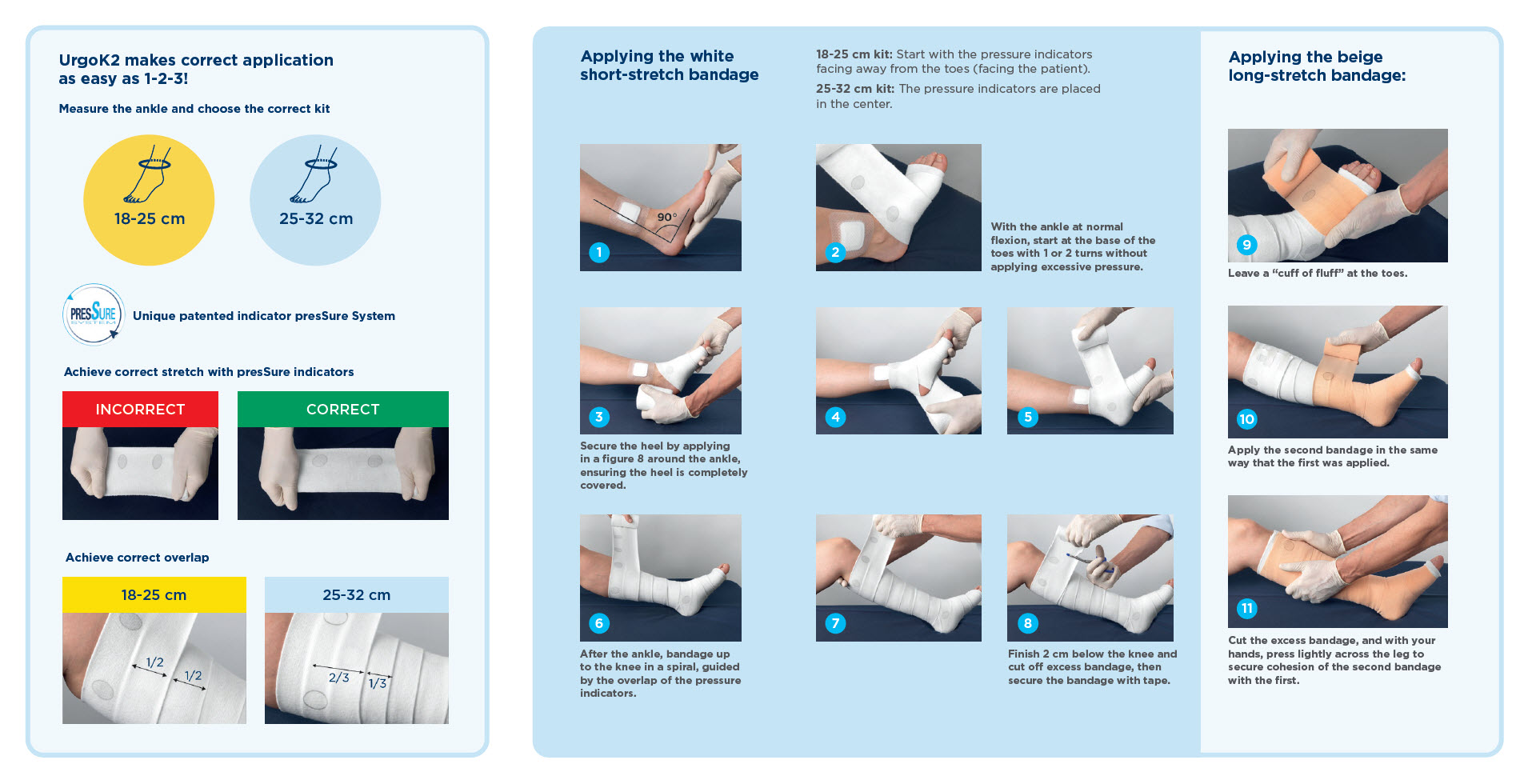 PRODUCT OPTIONS
| Product Code | Product Size | Units/Box |
| --- | --- | --- |
| 100400 | Ankle 18-25CM | 1 kit |
| 100401 | Ankle 25-32CM | 1 kit |
Supplied in kits containing 2 components: 1 KTech + 1 KPress
CLINICAL EVIDENCE
Junger M, et al. Comparison of interface pressures of three compression bandaging systems used on healthy volunteers. J Wound Care. 2009;18(11): 474,476-80.