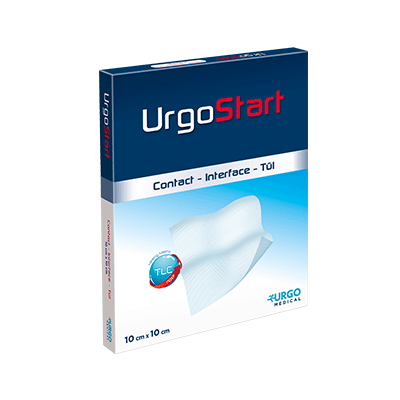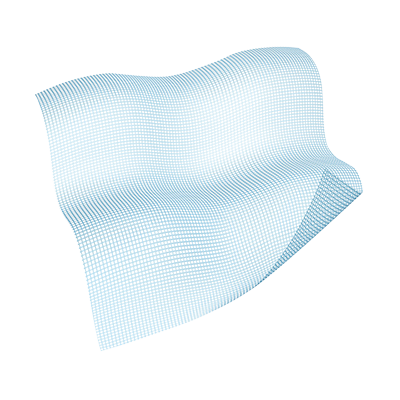 An innovative, non-adhesive, non-occlusive matrix with TLC-NOSF technology.  It combines a polyester mesh with the TLC-NOSF formula.
FEATURES
FEATURES
BENEFITS

Incorporates NOSF technology

Reduces proliferation of MMPs

Incorporates TLC technology

Creates a moist wound environment
Non-adherent
Atraumatic removal

Assists in good fit on all wound shapes
Suitable for deep and cavity wounds

Can be cut
Will not shed into the wound

Reduces need to change contact layer at time of secondary dressing change
The efficacy of TLC-NOSF on the reduction of healing time has been demonstrated in double-blind, randomised controlled clinical studies 1,2,3 and by an analysis of observational studies4.  The earlier TLC-NOSF treatment is started, the more effective it is4.
INDICATIONS
Non to low exuding (a secondary absorbent dressing can be used for highly exuding wounds)

Chronic wounds
Diabetic foot ulcers
Leg ulcers
Pressure injuries

Long standing acute wounds
Wounds where surrounding skin is friable
UrgoStart® Contact can be used in patients with leg ulcers, diabetic foot ulcers and pressure injuries, from whenever granulation tissue appears until complete healing.  Leg ulcers, diabetic foot ulcers and pressure injuries take an average of 210 days to heal5.  UrgoStart® Contact reduces the healing time of these types of wounds by an average of 100 days4.
CONTRAINDICATIONS
In order not to delay any optimal treatment, UrgoStart® Contact is contraindicated in cancerous wounds and in fistula wounds which may reveal a deep abscess.
Do not use if there is a known sensitivity to UrgoStart® Contact or its components.
Not suitable for use during hyperbaric treatment.
CUTTING GUIDE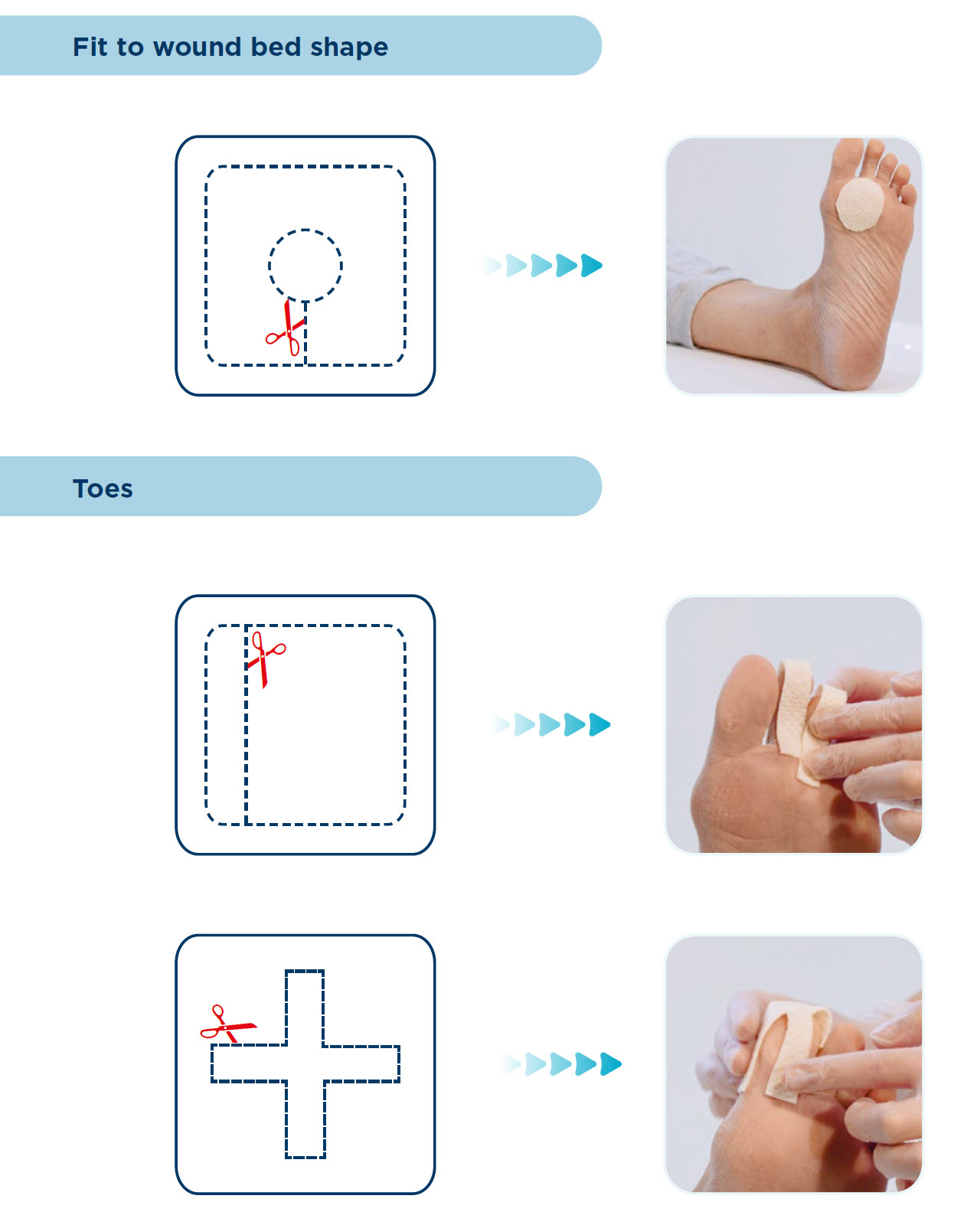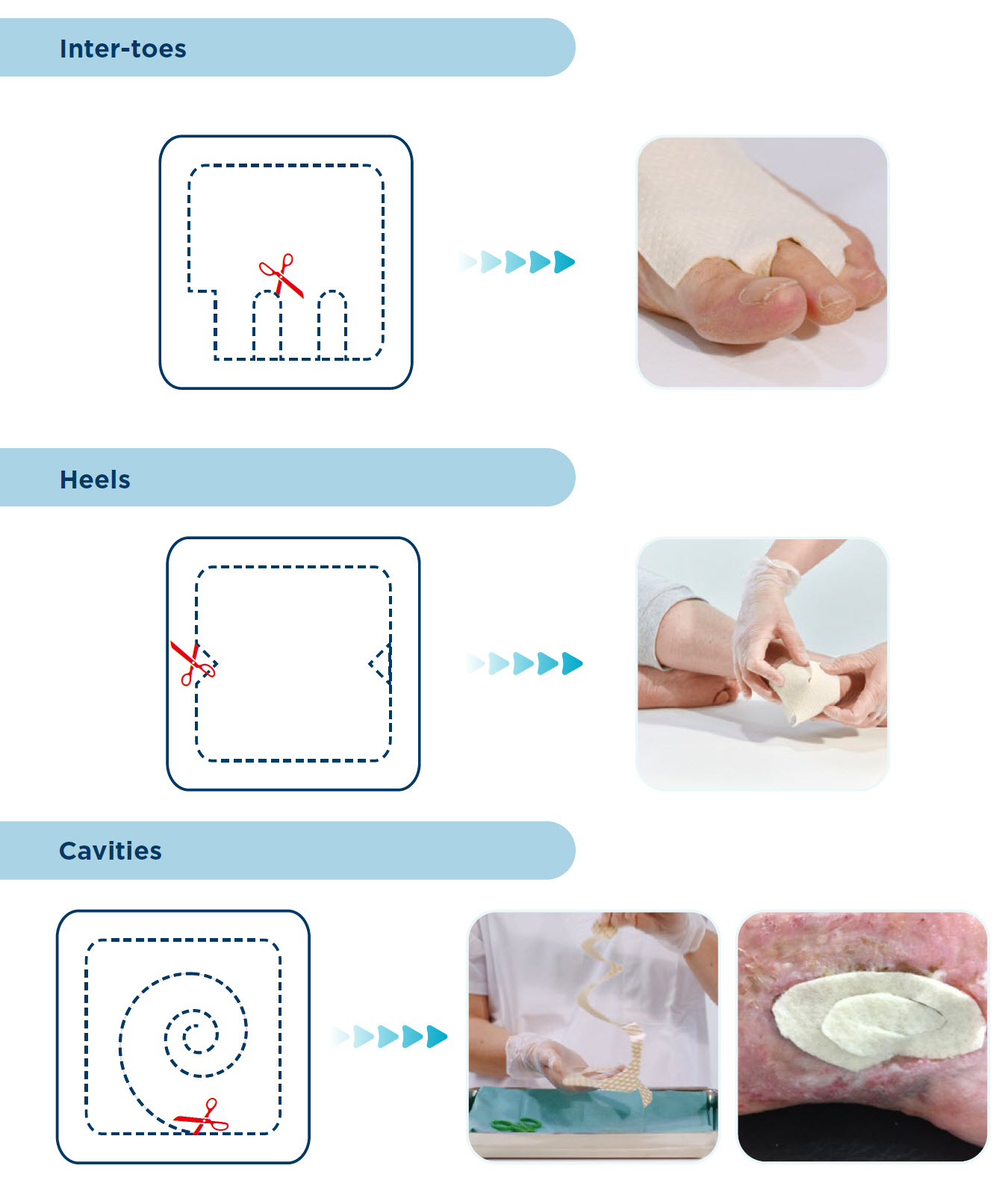 DIRECTIONS FOR USE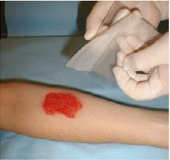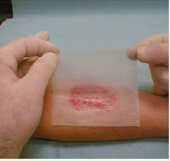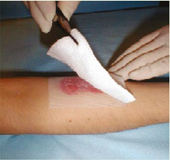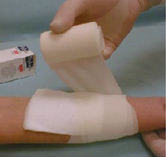 UrgoStart® Contact adheres to latex surgical gloves. It is therefore recommended that gloves be moistened with saline in order to make the handling easier. Clean the wound as per local protocol.
If antiseptic is first used, carefully rinse the wound with normal sterile saline before applying UrgoStart® Contact
Dry the surrounding skin carefully
Remove the protective wings
Apply UrgoStart® Contact to the wound
Cover UrgoStart® Contact with a secondary dressing suitable to absorb the level of wound exudate and hold the secondary dressing in place with a conforming bandage, adhesive tape or an elasticated tubular bandage
For exuding wounds, use UrgoStart® Foam Pad
UrgoStart® Contact dressing may be changed every 2 to 4 days, and left in place for up to 7 days depending on the level of exudate and the wound condition. The recommended treatment duration for UrgoStart® Contact is a minimum of 4 to 5 weeks.
PRODUCT OPTIONS
| Product Code | Product Size | Units/Box |
| --- | --- | --- |
| 100379 | 5x7cm | 10 |
| 100380 | 10x10cm | 10 |
| 100381 | 15x20cm | 10 |
Supplied in boxes of 10 individually packed sterile dressings.
CLINICAL EVIDENCE
Meaume S, et al. A randomized, controlled, double-blind prospective trial with a Lipido-Colloid Technology-Nano-Oligo Saccharide Factor wound dressing in the local management of venous leg ulcers. Wound Rep Reg. 2012; 20: 4, 500-511.
Edmonds M, Lazaro-Martinez JL, Alfayate-Garcia JM, Martinin J, Petit JM, Rayman G, Lovmann R, Uccioli L, Sauvadet A, Bohbot S, Kerihuel JC, Piaggesi A.

 

Sucrose octasulfate dressing versus control dressing in patients with neuroischaemic diabetic foot ulcers

(

Explorer

)

: an international, multicentre, double-blind, randomised, controlled trial.

 

Lancet Diabetes Endocrinol. 2018 Mar;6

(

3

)

186-196.
Meaume S, Truchetet F, Cambazard F et al.

 

A randomized, controlled, double-blind prospective trial with a Lipido-Colloid Technology-Nano-OligoSaccharide Factor wound dressing in the local management of venous leg ulcers.

 

Wound Repair Regen. 2012;20:4, 500-511
Munter KC, Meaume S, Augustin M, Senet P, Kerijuel JC.

 

The reality of routine practice: a pooled data analysis on chronic wounds treated with TLC-NOSF wound dressings.

 

J Wound care. 2017 Feb; 26

(

sup2

)

: S4-S15.

 

Erratum in: J Wound Care. 2017 Mar 2; 26

(

3

)

:153
Report to the French minister responsible for Social Security and the French Parliament concerning the evolution of French National Health Insurance charges and products for 2014.

 

July 2013.