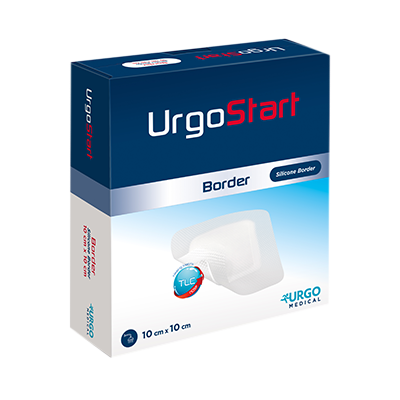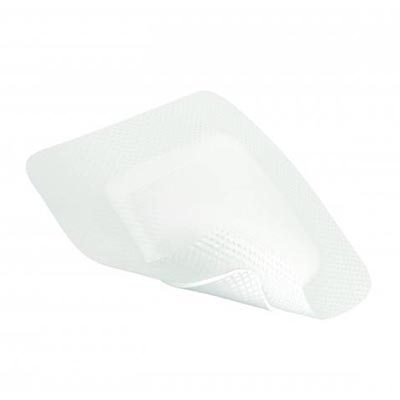 An innovative border foam pad dressing combining a polyurethane foam pad with a TLC-NOSF matrix.
FEATURES
FEATURES
BENEFITS

Incorporates NOSF Technology

Rebalance of MMPs
Reduce healing time and close wounds sooner

Incorporates TLC Technology

Creates a moist wound environment
Non-adherent
Atraumatic removal

Assists in good fit on all wound shape
Suitable for deep and cavity wounds

Polyurethane Foam/ non-woven contact layer

Provides protection to peri-wound area
Offers high-level exudate management

Up to 7 days wear time (dependant on level of exudate and condition of wound)

Reduces need for frequent dressing changes
INDICATIONS
Low to moderately exuding (a secondary absorbent dressing can be used for heavily exuding wounds)

Chronic wounds
Diabetic foot ulcers
Leg ulcers
Pressure injuries

Long standing acute wounds
Wounds where surrounding skin is friable
CONTRAINDICATIONS
In order not to delay any optimal treatment UrgoStart® Border is contradicted in cancerous wounds and fistula wounds which may reveal deep abscess
Not suitable for use during hyperbaric treatment
Do not use if there is a known sensitivity to UrgoStart® Border or its components
DIRECTIONS FOR USE
Preparation of the wound:

Clean the wound as per local protocol.
If an antispetic is first used, carefully rinse the wound with normal sterile saline before applying UrgoStart® Border.
Dry the surrounding skin carefully.

Application of the Dressing:

Remove the protective wings.
Apply the soft-adherent side of UrgoStart® Border to the wound (the adhesive silicone border)
Smooth the dressing over the wound
Apply compression bandaging over the dressing when prescribed

Application of the sacrum version:

Place the dressing with the tip facing the sacral area

Removal of the dressing:

Press down on the healthy skin, lift on the corner of the dressing and remove it carefully.

Dressing changes:

UrgoStart® Border dressing may be changed every 2 to 4 days and left in place up to 7 days depending on the level of exudate
and the condition of the wound. The recommended treatment duration is a minimum of 8 weeks.
PRODUCT OPTIONS
| Product Code | Product Size | Units/Box |
| --- | --- | --- |
| 100480 | 8x8cm | 10 |
| 100481 | 10x10cm | 10 |
| 100482 | 15x20cm | 10 |
| 100483 | 13x13cm | 10 |
Supplied in boxes of 10 individually packed sterile dressings.