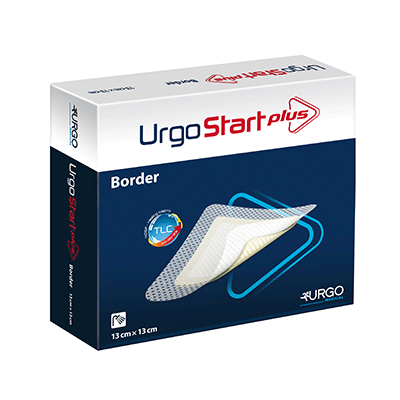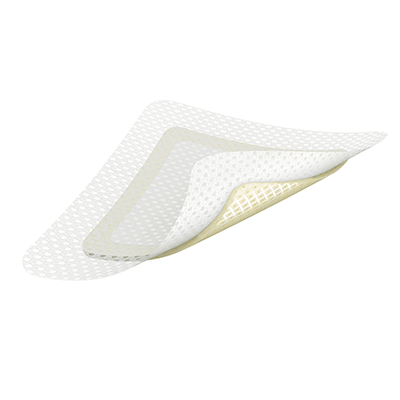 A soft-adherent TLC-NOSF matrix is combined with polyacrylate poly-absorbent fibres, which guarantee wound cleaning. A vapour permeable waterproof outer film with silicone adhesive on the edges.
FEATURES
FEATURES
BENEFITS

Reduction of healing time combined with cleaning (slough, exudate, debris)
Absorption of exudate
Management of minor bleeding wounds
Creation and maintenance of a moist wound environment that promotes healing
Atraumatic removal
Respect of peri-wound skin

Pain free removal
Very conformable and easy to reposition
A vapour permeable waterproof outer film with silicone adhesive on the edges
INDICATIONS
UrgoStart® Plus Border is indicated for all stages (from the desloughing stage to complete healing) of:
Exuding wounds
chronic wounds

leg ulcers
pressure injuries
diabetic foot ulcers

long standing acute wounds.
CONTRAINDICATIONS
UrgoStart® Plus Border facilitates the management of minor bleeding wounds. However it should not be used for heavily bleeding wounds.
In order not to delay any optimal treatment, UrgoStart® Plus Border is contra-indicated in cancerous wounds and wounds which may reveal a deep abscess.
Do not use when there is a known sensitivity to UrgoStart® Plus Border
PRECAUTIONS
As the UrgoStart® Plus Border includes a super-absorbent layer, the central pad should not be cut. However, the adhesive edges can be cut if necessary using sterile scissors to fit different wound or body shapes.
If the wound shows signs of local infection, it is recommended that antimicrobial treatment is used first before starting treatment with UrgoStart® Plus Border.
If an atypical ulcer presents induration or over-granulation, treatment with UrgoStart® Plus Border should only be initiated after verifying that ulcer deterioration is absent, to prevent any delay in diagnosis.
Regarding Epidermolysis Bullosa (even for long-standing lesions), the use of UrgoStart® Plus Border is not recommended.
Stinging or even painful sensations may be reported at the start of the treatment. These are usually linked to the healing process and the need to suspend treatment is rare.
During desloughing, the wound may appear to get larger due to the gradual elimination of slough.
Concomitant use with a cream, an ointment, an emulsion is not recommended.
UrgoStart® Plus Border must not be used in a hyperbaric chamber.
Sterile individual packaging, for single use only: re-using a disposable dressing can lead to the risks of infection.

Do not re-sterilise the dressing.
(*) Check that the sterile protector is intact before use. Do not use if
package is damaged.
PRODUCT OPTIONS
| Product Code | Product Size | Units/Box |
| --- | --- | --- |
| 100460 | 8x8cm | 10 |
| 100461 | 10x10cm | 10 |
| 100462 | 15x20cm | 10 |
| 100463 | 13x13cm | 10 |