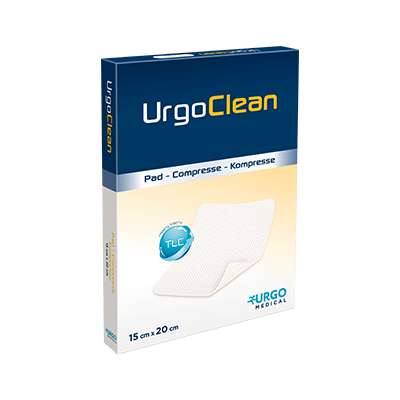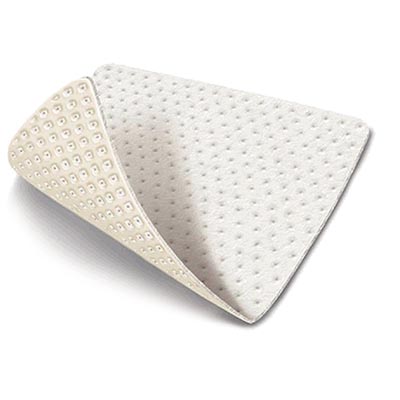 Sterile non-woven pad, composed of poly-absorbent fibres that are highly absorbent and cohesive.
FEATURES
FEATURES
BENEFITS

Poly-absorbent fibres (polyacrylate) highly absorbent and cohesive

50% better reduction in sloughy tissues compared to hydrofibres1
Traps bacteria1
Debrides and desloughs

Coated with a micro-adherent lipidocolloid matrix (TLC) that gels easily

Allows one piece and pain-free removal2
INDICATIONS
Deslouching phase of chronic exuding wounds (eg leg ulcers, pressure injuries, diabetic foot ulcers)
Potentially sloughy wounds

acute wounds (burns, skin abrasions, traumatic wounds)
post-operative wound
cancerous wounds
CONTRAINDICATIONS
Do not use if there is a known sensitivity to UrgoClean®
Do not use UrgoClean® as a surgical sponge for heavily bleeding wounds
PRECAUTIONS
The soft-adherent TLC layer of UrgoClean® adheres to latex gloves. It is therefore recommended that the dressing be handled carefully, avoiding any contact with the soft-adherent side or using sterile forceps
The concomitant use of a cream, lotion, ointment or emulsion is not recommended
Due to the non-occlusive nature of this dressing, UrgoClean® can be used on infected wounds under close medical supervision
During the desloughing process, the wound may appear to be larger in size. This is due to the effective removal of slough
UrgoClean® must not be used in a hyperbaric chamber
Do not re-sterilise the dressing
Check that the sterile protector is intact before use. Do not use if package is damaged
Single use sterile individual packaging: re-using a single use dressing may lead to risks of infection
PRODUCT OPTIONS
| Product Code | Product Size | Units/Box |
| --- | --- | --- |
| 100369 | 6x6cm | 10 |
| 100370 | 10x10cm | 10 |
| 100372 | 15x20cm | 10 |
Supplied in boxes of 10 individually packed sterile dressings
CLINICAL EVIDENCE
Grothier L. Improving clinical outcomes and patient experience through the use of desloughing. Br J Comm Nurs 2015;20(9):1-6.
Meaume S et al. The importance of pain reduction through dressing selection in routine wound management the MAPP study. J Wound Care
2004;13(10): 409-13.