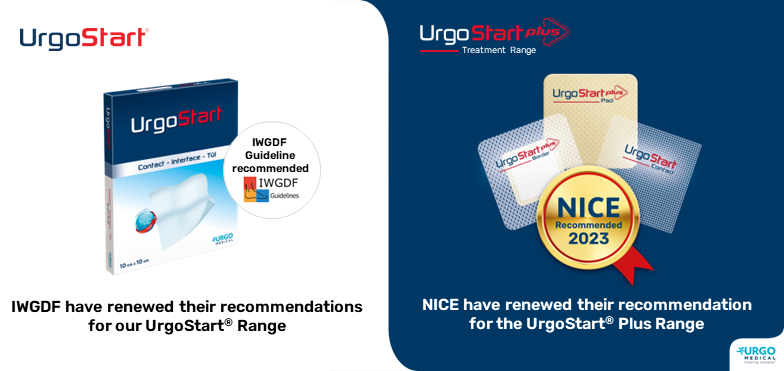 We are thrilled to announce a significant milestone for URGO Medical. The International Working Group on Diabetic Foot (IWGDF) has renewed their recommendations for our UrgoStart® range to be an integral part of the Standard of Care for non-infected, neuro-ischaemic diabetic foot ulcers. This endorsement is a testament to the exceptional quality and effectiveness of our products, supported by high-level clinical evidence.
The renewal of these recommendations by the IWGDF is a tremendous achievement for URGO Medical. It highlights our unwavering commitment to excellence in every product we bring to the market. We take immense pride in our rigorous approach to clinical research and evidence-based medicine, which has been recognized by this esteemed international group.
Furthermore, the recent renewal of recommendations by the NICE – National Institute for Health and Care Excellence, for our UrgoStart® Plus in the treatment of diabetic foot ulcers and leg ulcers, is a testament to the cost-effectiveness and positive impact our products have on patients' quality of life. It is gratifying to see our efforts to provide innovative solutions that improve patient outcomes being acknowledged and valued by renowned healthcare institutions.
Additionally, we are delighted to have played a part in the development of the Australian evidence-based guidelines for Diabetic Foot Disease (DFD) through our collaboration with Diabetes Feet Australia. By adapting the IWGDF 2019 guidelines to the Australian context, these guidelines now serve as the gold standard for multidisciplinary best practice in DFD care within Australia. This achievement further solidifies our position as a trusted partner for healthcare professionals, providing them with the tools and knowledge to deliver optimal care to their patients.
At URGO Medical, our core driving force is the pursuit of excellence. We are committed to delivering products that are backed by high-level clinical evidence, enabling us to make a tangible difference in the lives of patients with wounds. We strive to lead with science, constantly pushing the boundaries of wound care to provide innovative solutions that heal patients and support healthcare professionals on a daily basis.
We are immensely proud of these accomplishments and will continue to work tirelessly to advance wound care, improve patient outcomes, and make a positive impact in the field. 

Read the updated guidelines below or reach out the Australian team at enquiries@au.urgo.com for more information on our UrgoStart® and UrgoStart® Plus Treatment Range!